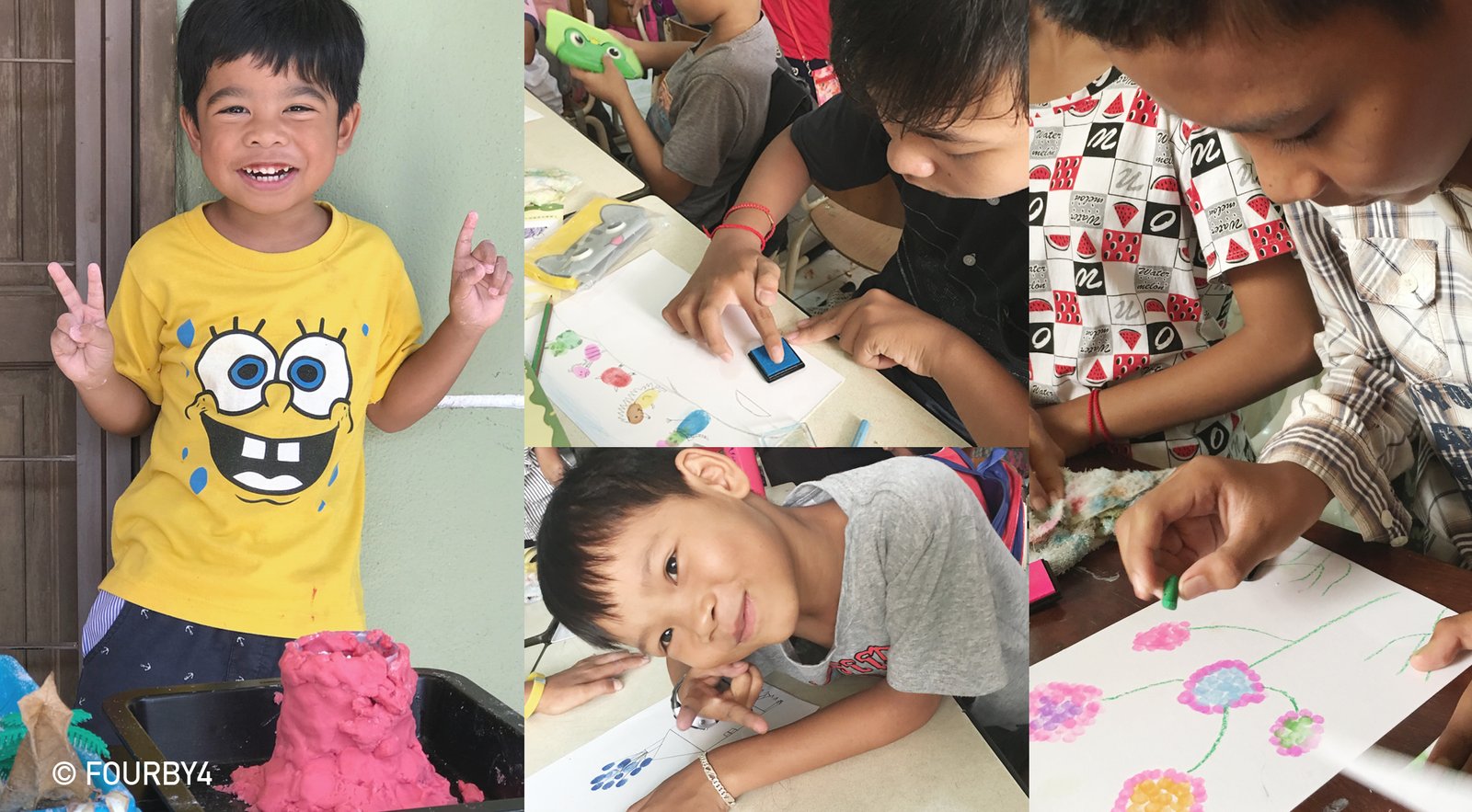 Ever had a Eureka moment? I had one recently.
I was sharing with 40 kids about the power of imagination, about freely dreaming. I got the kids to paint what they saw in their mind's eye.
That was my children art class in Phnom Penh then and I could see that all the kids were just so eager to draw from their imagination.
Kids are the least practical folks around. They dare to dream big, and they believe in their dreams. While we were sharing about dreams, I was really awestruck to discover what they hope to achieve. I may have been the teacher that day, but I felt that they had imparted to  something priceless instead.
Despite living in a harsh environment, they remain inspired and hopeful to dream about their future. Kids are so unpretentious. They are real and they don't hide their feelings. I pray that they will never stop believing in themselves.
I am currently helping out as a part-time trainer at the Goodman Ceramic Studio. This entails spending substantial time with kids. Through my interaction with them, I have come to realise they are really small powerhouses of creativity! They are not shy about their ideas – they share what's on their minds and in their hearts with so much passion and confidence!
One kid that left an impression on me is James. He is energetic, expressive and imaginative. I simply enjoy my time  with him. James was sharing with me that he wants to be a ceramist artist, and he also wants to be an engineer like his dad. He loves dogs. So he decided to shape his first clay mug into a dog. While discussing about his mug creation, we chatted quite a bit. He is one young chap who has tried many things, including cooking and baking. He plays ping pong, swims, and is always the first to answer questions in class.
Check out this video of him singing at my workshop.
I am a dreamer. Most of the time, I let my mind wander without realising that I am smirking! Maybe 'smiling' is a nicer way to describe it – I smile while I dream. Hahaha… oops! (my elder sis thinks I am crazy… whatever) but don't you think you do that too? Huh? No?
Yet, i also wonder – am I bold enough to take the risk and invest all that I have into chasing my dream? I think as we grow older, we start to let go of our dreams. Swarmed with all the practical issues and responsibilities we face, we tend to take calculated risks rather than follow our hearts.
Jerome Martin (that's my 4-year-old nephew)… I see you smiling and deep in thought all the time. What's going on in that tiny brain of yours… I don't know. But Yi Yi Gen could very well imagine the colours and wild, animated swirls in your head. We smile when we dream. It's normal. We visualise it… it keeps us Creative…. wohoo!
Being creative helps me see Hope. But most importantly, let's not lose sight of our dreams and work towards them. Our true destiny is waiting on the horizons.
It's never too late!