Valentine's Day is usually celebrated with the usual fanfare, with everyone baring their hearts on social media and declaring it as the time to be with loved ones. But that's just one dimension of what love really is.
What I am sharing today is not about expressing love. But love from another party's point of view.
My trip to Phnom Penh in 2014 opened a new door for me to explore working with sewing women. I eventually started a social enterprise called MUSTARDSKY last year with like minded friends, and have been collaborating with Village Works Makers for our products. We hope to empower the makers, and represent hope for these makers from disadvantaged communities by helping move towards financial independence and empowering them to escape the vicious cycle of poverty and deprivation.
Why MUSTARDSKY? I'm happy to share the story behind the name. Mustard seeds represent our god-given talents. Sky alludes to unlimited possibilities. Put the two together and we have the mission of maximising our talents to being unlimited possibilities to those in need.
And now the logo design…
The Mustardsky logo is made of two main elements – the mustard vine anchored by a heart shaped mustard pod and the mustard seeds below.
The dots at the bottom are like the individual makers who work with Mustardsky. Each unique talent / seed (be it craft, sewing, or creative thinking) is given the opportunity to create hence the seeds are all different in shapes. The dots also represent the platform for the workers to be empowered and to grow together with us. Everyone is unique and can express themselves freely, as symbolised by the more free-form 'M' – the icon with a flower pod that forms a heart shape. In  a nutshell, Mustardsky is a brand that empowers the makers to create and grow with us…. towards LOVE!
It's not something new, but it is something that I've always wanted to do – using my design skills to help these villagers.
Someone once said to me, Things that touch you will also touch others.
Yeah, just follow the tug in your heart, doing it even if it seems like it doesn't make sense.  But seeing the joy on their faces and making that small impact in their lives… That is the very reason why we started MUSTARDSKY.
VillageWorks create employment and provide skills to women and young people in Cambodia. It started operations in the Baray District of Kampong Thom Province to empower women in the rural area. Now it also operates in Phnom Penh, employing mostly people suffering from the effects of childhood polio.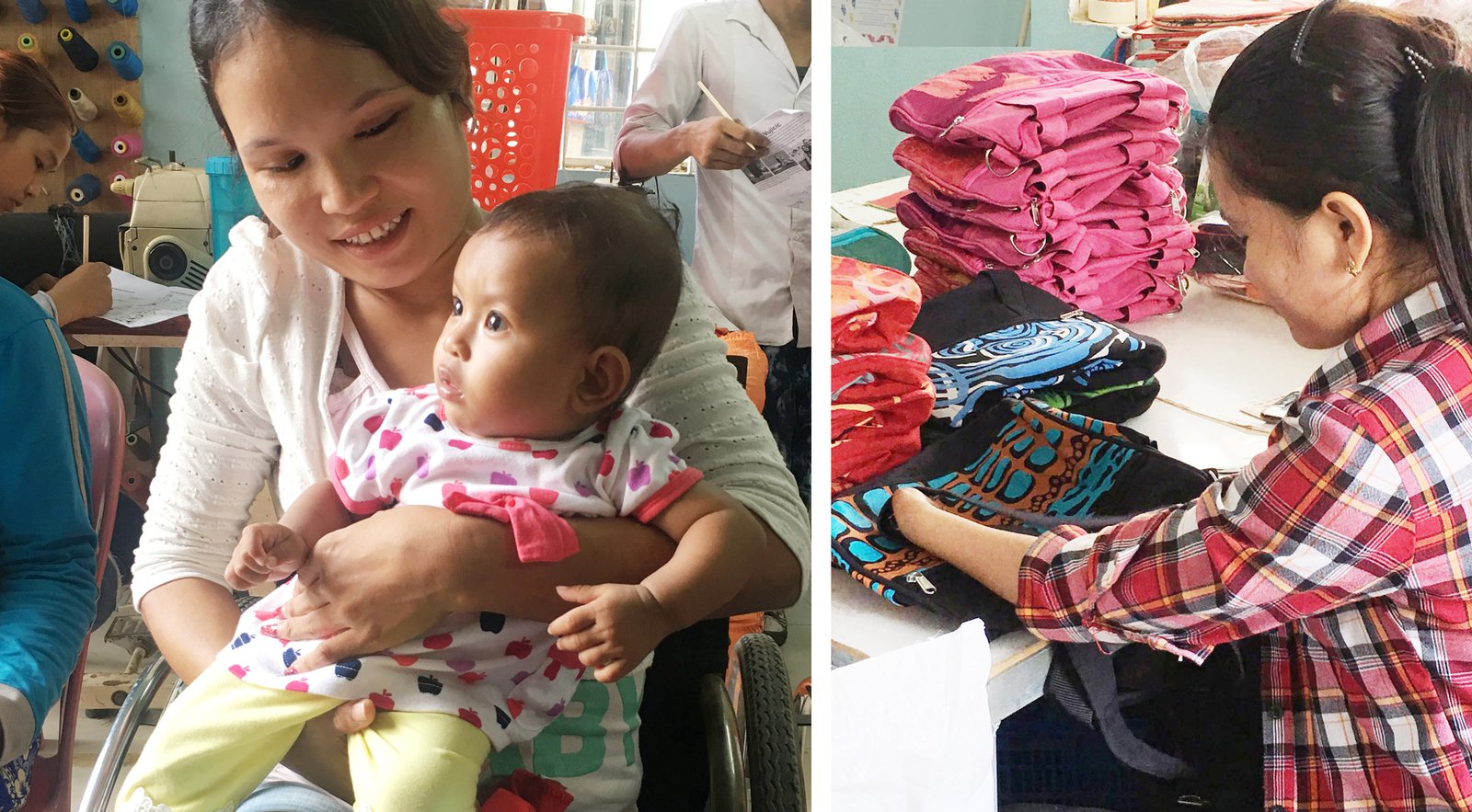 Some of these makers are without hands, but they are able to work and sew! To me, a sewing machine is a no no… I have tried using it before and faced problems handling that biting monster!
Yet all these makers persevered and completed their training. Were they doing it out of their love for craft? Frankly I'm not too sure. Due to the language barrier (it doesn't help that they are also shy by nature), I couldn't probe further. Luckily we were still able to communicate with Anak, the lady in charge who speaks good English. But what matters at the end of the day is that I am truly glad that along the way they found a place of acceptance.  A place of second chance.  A place where they could earn and provide for their families.  Then I must say these bags were all made with love… love for their families.